The Huawei MateBook E is an affordable 2-in-1 Windows laptop with an OLED display, and it comes with a keyboard and M-Pencil. It's a tempting alternative to Surface that offers plenty of mobile productivity and entertainment.
The MateBook E is available in Europe and other countries, but not in the United States. The tablet with a keyboard case costs £999.99 (about $1,308) and includes the M-Pencil as a free gift.
I tested the model with an 11th Gen Intel Core i5 processor with 16GB of RAM and 5128GB of storage. Different models may be available in other regions at different price points, with varying specifications and included accessories. During my time with this impressive device, I used the included magnetic keyboard for mobile productivity and the second-generation M-Pencil for note taking.
TL; DR
Benefits:
The OLED display is gorgeous
Excellent performance
The M-Pencil stylus works well
Keyboard and stylus included with many models
The inconvenients:
The kickstand integrated into the keyboard
Limited Ports
Battery life isn't amazing
Buy from Huawei.
Using the MateBook E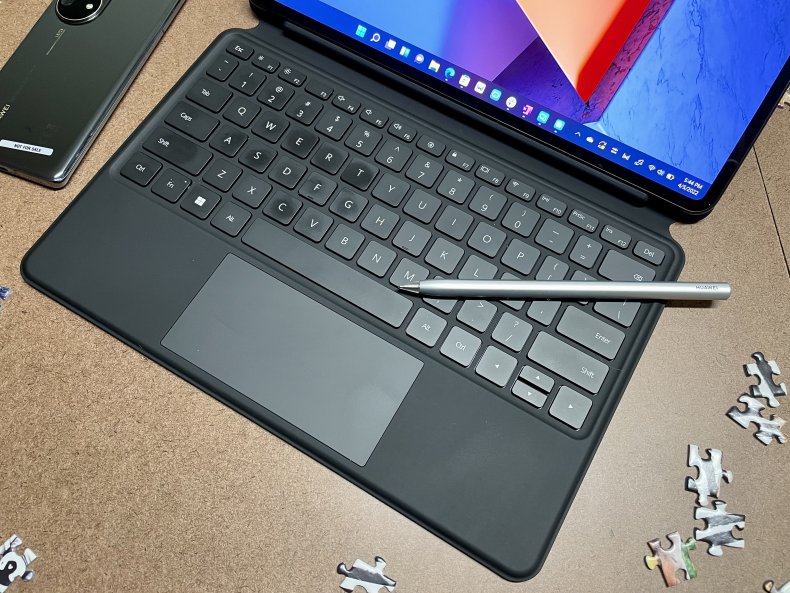 The Huawei MateBook E looks a lot like the company's MatePad Pro, with a slim design and premium feel. There's a very small bezel around the 12.6-inch OLED screen. You can use the tablet as a standalone device for light work, note taking and media consumption, but it really shines when you connect to the keyboard case that's included with all but the base model.
Huawei's keyboard case includes a stand that supports the device, with good reach. The downside to this method of adding a kickstand is that there's no built-in tablet stand to use without the keyboard. This is similar to the iPad Pro, but Surface Pro users may miss the built-in kickstand. Using the device on my lap is a challenge: the kickstand, located on the front of the keyboard, sits at the edge of my lap. It is functional but best suited to a flat surface. While using the keyboard on my lap, I accidentally activated the touchpad when the keyboard flexed. The keyboard keys are flat but offer good travel and are comfortable for long term use. The soft-touch finish of the keys and palm rest provides a premium feel.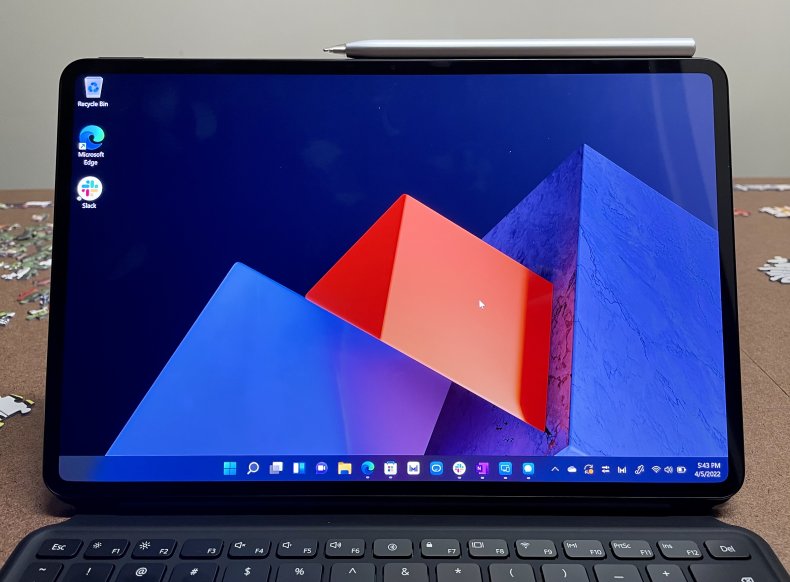 Huawei's display choice pays off for portable productivity. The OLED display is bright at 600 nits and easy to see in bright overhead lighting. The 2560 x 1600 resolution allows me to use two windows side by side for increased productivity, even in a small enclosure. The OLED display offers a high contrast ratio and deep blacks, delivering great colors. It has 100% DCI-P3 color gamut and Delta E
The screen is responsive and supports multiple touches, but Windows 11 still offers a few small touch points that are difficult to press with a finger. The M-Pencil included with this review model is suitable for typing on smaller areas and is on par with the Apple Pencil for taking notes. I took most of my notes in OneNote. The M-Pencil attaches to the top of the tablet with magnets, where it charges. It is an ideal place to store the pencil while using the tablet or with limited mobility. For travel, you'll want to secure it in a larger case or in your backpack.
The performance of the MateBook E with the 11th Gen Intel Core i5 processor and 16GB of RAM is more than enough to meet the needs of a mobile worker. I tested this with multiple windows and tabs, Office 365 apps, and Slack. I was able to easily replace this device in my workflow in place of a MacBook Air, which is most often used for web-based work.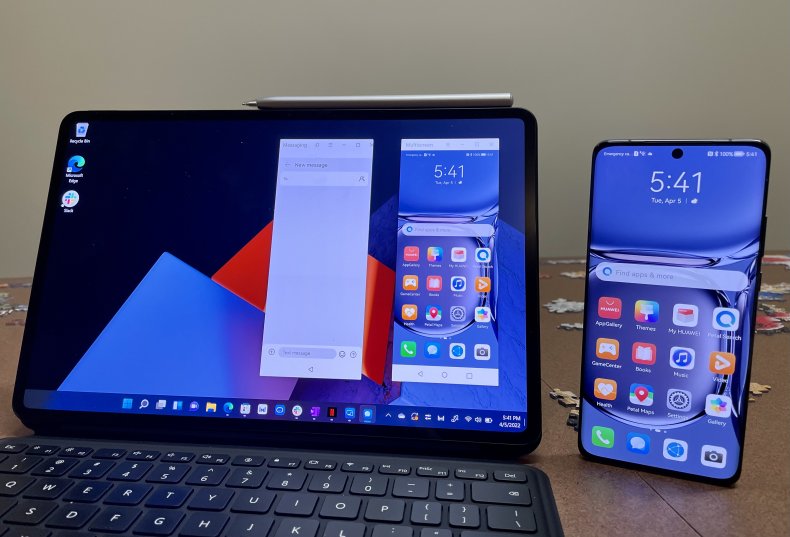 The Huawei Super Device feature offers device connectivity that rivals Apple's iMessage integration. A compatible Huawei device lets you use up to three phone apps on the MateBook E screen, phone features like texting and video calling from the laptop, and even the phone's camera for a webcam.
This 2-in-1 device has just one Thunderbolt 4 port. That's enough for basic tasks, but power users may need to invest in an adapter for additional ports to connect to a monitor or peripherals. There is a headphone jack on the opposite side.
I'm incredibly impressed with the MateBook E's speakers. At 50% volume, they fill my small desk and deliver incredible depth to music. Live music makes it feel spacious and movies are crisp and clear. You don't need a Bluetooth speaker with the MateBook E.
The 8-megapixel front camera is tucked into the top bezel when in landscape mode on the keyboard. It doesn't support Windows Hello, so if you want to log in with biometrics, you have to use the fingerprint reader on the power button. On the back is a 13-megapixel camera with flash. The cameras and array of four microphones combine to make this a very capable video calling machine that dominates our lives.
Ultimately, battery life isn't amazing. It fires in about 4 hours with the screen at full brightness or about 6 hours with 70% brightness. If you want all-day use, you should plan to reduce the screen brightness to half, otherwise you will have to charge the device during the day.
Should you buy the Huawei MateBook E?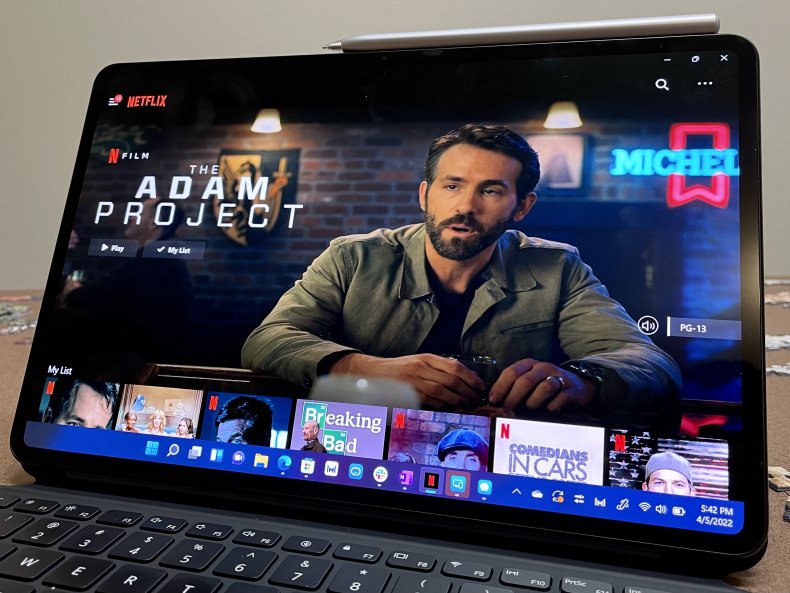 The Huawei MateBook E is a fantastic device at the price. Buyers get a beautiful OLED display that's great for work and entertainment. The included keyboard and the promotion which currently includes a free M-Pencil and Huawei FreeBuds Pro add to the value.
The value is even higher for Huawei users, who can leverage their phone's multi-device functionality, use the new Huawei Super Device, and mirror a Huawei screen.
Although the keyboard is difficult to use on a lap and the battery life doesn't last all day, it's still a great Windows 2-in-1 for many users.
Newsweek may earn a commission from links on this page, but we only recommend products that we support. We participate in various affiliate marketing programs, which means we may earn commissions on editorially selected products purchased through our links to retailer sites.