PALM COAST — It was a unique gathering in the morning fog on the sidewalk outside Flagler Palm Coast High School, forged by a common bond despite those in attendance's decades of age differences.
The grizzled and proud United States Marine Corps veteran with his fellow vets and young teenage activists came together to protest an injustice caused by the hateful spite of politicians and others who set out to erase existence and the essence of Florida's LGBTQ+ people.
The primary motivation and reason for the rally was to show support for Flagler student Jack Petocz, 17-year-old junior, who had been unceremoniously suspended – indefinitely for his role in organizing a school-wide protest. state and local at his school last week. about Florida's now infamous "Don't Say Gay" law that was making its way through the Tallahassee Legislature.
Retired U.S. Marine Corps Gunnery Sergeant Mark Ebenhoch, 63, a 23-year veteran of the Corps, joined by fellow veterans, including U.S. Navy veteran Eric Golnick, a Washington resident DC, CEO of Forge Health, a mental health company for veterans and first responders, and others were on hand to express outrage and anger at what Ebenhoch told The Blade as "harsh discipline and targeting of Jack – which is unwarranted, unfair, unconstitutional, and a chilling consequence to his and those students' 1st Amendment rights."
After seeing the reports of Jacks' suspension, the group of vets who organized the early morning rally in support were furious at the targeting of young people in Florida. "The core of their anger was the targeted restriction of the free speech rights of everyone involved. Whether it's the intentional violators of the bill in question, or the HS students who understand this aggression in airing their grievances, these vets have seen aggression on their enlistment oaths," Ebenhoch said.
"We were infuriated that the First Amendment rights of these children were trying to be restricted. The staff, the teachers, the school employees are going to be strangled by this, and those kids who stand up for it – and then be disciplined to do it, we're very incensed by," Ebenhoch told local media FlaglerLive.com.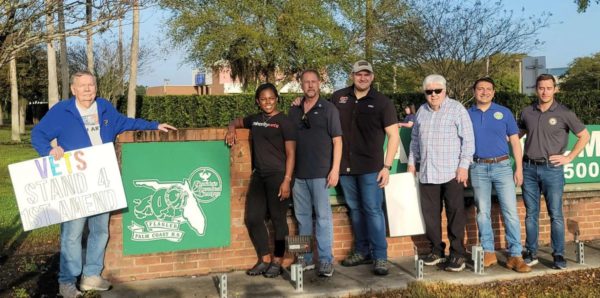 "We came to this not just from an LGBT perspective, we came to this as a veteran. The fact that we all took an enlistment oath to defend the constitutional rights of Americans against all foreign enemies. And the key word here is domestic enemies. When we have the Florida State Legislature restricting First Amendment rights, I'm sorry, I don't care what kind of veteran you are or what kind of American you are. It's wrong. Period. We do not restrict speech rights. If people want to restrict their right to speak, they can move to Russia, where they can't say anything. But we have the right in this country to do so. And so these children stand up for their rights. We are here with them.
"To be perfectly frank, that pissed me off, didn't it? From a First Amendment perspective, from a constitutional perspective," Golnick said, "the fact that he was suspended from school for speaking his mind, in fact, they're so harsh about it." He said it was a pretty unique case from what he was observing across the county. "And if we don't stand up for these kids, who is going to stand up for these kids?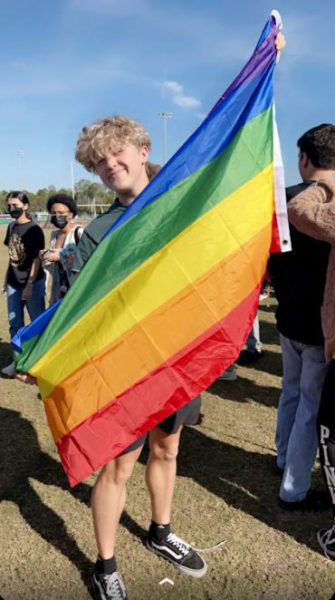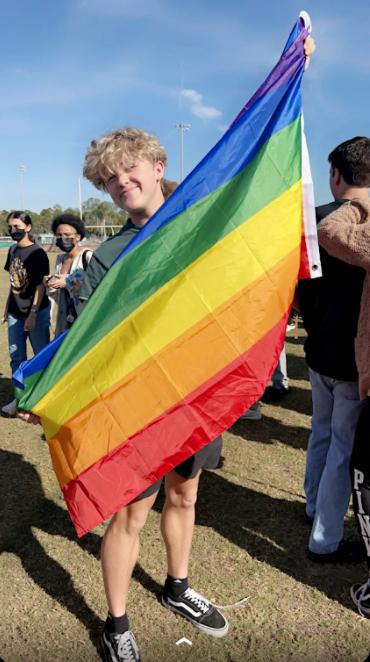 For Cameron Driggers, 17, a LGBTQ+ student activist, Recall Flagler County School Board organizer and co-leader of the walkout, his friend's suspension inspired him to create a petition on Change.org pressure Flagler Palm Coast High School principal Greg Schwartz to reverse his seemingly arbitrary decision to suspend Petocz.
Driggers pointed out to The Blade in a phone call that Principal Schwartz had "given us his explicit permission and approval for the walkout to happen – then he abruptly cut it short and when he found out Jack was buying the flags to distribute at the rally, he then suspended it.
By the time of Tuesday's rally by Ebenhoch's LGBTQ+ veterans' cadre, Driggers' petition had garnered more than 7,000 signatures.
Ebenhoch and Golnick also brought a piece of LGBTQ+ history with them to the early morning rally, the Key West Sea to Sea Flag Section 93 (the largest LGBTQ flag ever.)
This same Section 93 Pride Flag has a storied history: it camouflaged the steps of the United States Supreme Court as it heard key cases on LGBTQ+ rights, and it's flown annually in Orlando to commemorate the massacre of 49 people at Pulse, the gay nightclub, in 2016. The Sea to Sea flag first flew at a commemoration in Key West in 2003 of the 25th anniversary of the flag itself, FlagerLive.com reported.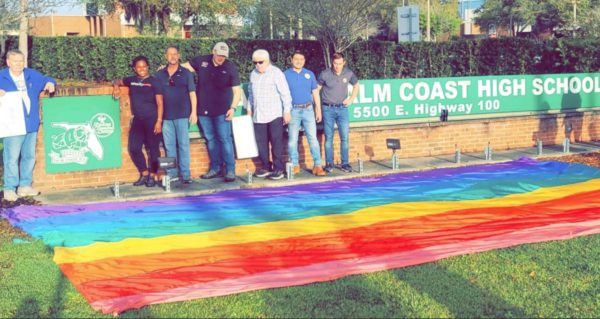 Petocz was absent from the rally as he and his father were inside the high school trying to get his suspension lifted. Later that day, Driggers posted on the Change.org petition the news that Principal Schwartz had backed down.
"Recall FCSB is pleased to announce that Jack's suspension is over and he is back on campus. We are grateful to the thousands of people around the world who shared, tweeted and protested in support of Jack, the organizer behind the statewide Don't Say Gay Walkout. More than 7,500 signatures were collected on a conviction of Principal Greg Schwartz's conduct last Thursday. With Jack back on campus, Recall FCSB will continue to empower student leaders inside and outside of school," Driggers wrote.
The reason for the walkout, indeed the protests and even the suspension of Petocz, however, was passed by the Florida Senate as the rally to support Petocz unfolded and the legislation now sits on the desk of Republican Florida Governor Ron DeSantis pending his signature, which he has publicly announced that he would approve.
In a phone call to the Blade after the rally outside Flagler Palm Coast High School on his way to Tampa on Tuesday afternoon, Ebenhoch reflecting on Driggers and his fellow students noted that "the kids are doing well." Adults better be careful, he mused, noting that Driggers, and with what he learned about Petocz, made him very optimistic as the battle for LGBTQ+ rights in Florida continued. "One thing is certain, they won't let anyone erase them," Ebenhoch said of the GenZers he's encountered.
On Wednesday, Petocz, who had run organizing student strikes across the state to protest a bill that critics say would harm LGBTQ+ youth in Florida, spoke with ABC News.
LOOK: